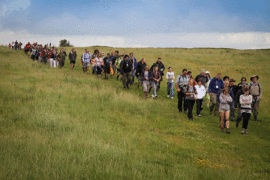 Avebury Rocks 20 Mile Walk
Please sponsor Jon to take part in the challenging Avebury Rocks 20 mile walk to be held on Saturday, 7 July 2012. 

Jon will be raising money for Love Hope Strength Foundation, which is a music cancer charity that raises funds for cancer projects and public awareness campaigns. Now firmly established as the world's leading rock and roll cancer foundation, Love Hope Strength has been endeavouring to encourage as many people as possible to sign up for the NHS organ donation and bone marrow registers as well as fundraising for valuable cancer resources. 

Avebury Rocks last year raised over £30,000 for Prospect Hospice. This year, we hope to raise even more which will go towards Prospect Hospice and CALM - Children's cancer and Leukemia Movement. 
Thank you for your support. 
She is very helpful.
---