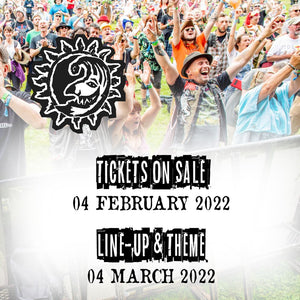 BEAUTIFUL DAYS FESTIVAL 2022
Beautiful Days 2022 line-up includes FLOGGING MOLLY, THE SPECIALS, LEVELLERS, THE DANDY WARHOLS, MAXIMO PARK, SEASICK STEVE, THE INTERRUPTERS, BETH ORTON, THE IMAGINED VILLAGE, ANAIS MITCHELL, BILLY BRAGG & LOADS MORE. Plus 'PEACE & LOVE' Sunday theme
Devon's annual Beautiful Days festival have announced their full line-up for the main stages at the 2022 event plus their Sunday theme. Flogging Molly return to the festival to headline Friday night on the Main Stage. It's been over two decades since the Celtic punk rockers burst onto the scene with their classic debut album Swagger. Armed with a fistful of rousing songs that are timeless in sentiment, their live shows are nothing short of legendary. Saturday headliners are The Specials - one of the most influential and important bands of all time. Changing the face of UK music in the 80's with hit singles including 'Too Much Too Young' and 'Ghost Town' they were at the forefront of the 2 Tone movement infusing ska with punk and homegrown political anxiety with wider issues. Studio album Encore, their first new music for 37 years, was released in 2019 and went straight to number 1 in the UK Official Charts. Festival foundersLevellers will headline the Main Stage on the Sunday night to close the weekend with a hit-rich set followed by the traditional firework spectacular. The band will also open the festival with an acoustic set in The Big Top.
Also announced for the Main Stage are alternative rock band The Dandy Warhols from Portland, Oregon whose 25 year career includes nine studio albums, two compilation albums and 27 singles including hits "Bohemian Like You" and 'We Used To Be Friends'. Plus the brilliant Maximo Park play for the first time at Escot. From the very first song on their very first album, 2005's A Certain Trigger – a multi-platinum selling, Mercury-nominated breakthrough in every sense – singer and lyricist Paul Smith pinned his socio-political colours to the mast. American blues guitarist and singer Seasick Stevewho is known for his fantastically compelling live shows, plus two-tone-inspired, powerfully melodic, punk-fuelled LA band The Interrupters and Lars Frederiksen who is best known as a guitarist and vocalist for the punk band Rancid and has been a major player in the California punk scene since the 90's. 2021 saw the release of Frederiksen's debut solo project "To Victory", Sheffield's Reverend And The Makersfronted by Jon "The Reverend" McClure and favourites Ned's Atomic Dustbin with their bass-heavy wall of noise are also on the bill.
Completing the Main Stage line-up are singer-songwriter Jim Bob who, outside of Carter The Unstoppable Sex Machine, has had a long and successful solo music career plus West London's Hollie Cook - one of the most exciting voices in reggae, seven-piece Franco-Irish group The Celtic Social Club, Australian Celtic-folk band The Rumjacks, London feral post-punk band Snapped Ankles and new and exciting talents Bob Vylan and Cam Cole. Plus psychedelic punk rock duo The Lovely Eggs, Coventry five piece Feet, the creatively unpredictable Brighton band Opus Kink, the high-energy footstompin Noble Jacks, acerbic post-punk band Deadletter, riotous 3 piece Idestroy and one man electro blues band Funke And The Two Tone Baby.
BRIT Award winner, and two time Mercury Prize nominee Beth Orton headlines Friday night in The Big Top. Over the course of her six albums to date, Orton resolutely refutes categorisation, weaving from a hushed, folk-informed storytelling to dark, brooding esoteric experimentalism. Through all these different sonic explorations, Beth remains a fantastically evocative songwriter and one of the UK's most unique and beguiling voices. Headlining Saturday night we have a very special performance from The Imagined Village who are reuniting with most members of the original line-up for just two major festival performances this Summer. The most ambitious folk fusion band of the 21st century, The Imagined Village set out to match English traditional songs against the sounds of contemporary multi-cultural England, with influences from Asia, the Caribbean and elsewhere. And they did so with an extraordinary line-up that included folk celebrities Eliza Carthy and Martin Carthy, Simon Emmerson (of Afro-Celt Sound System fame), sitar exponent Sheema Mujherjee, that rousing dhol and tabla percussionist Johnny Kalsi, and drummer Andy Gangadeen. Topping the bill on Sunday night is the UK's foremost political singer-songwriter Billy Bragg. Orator, entertainer, rabble-rouser, negotiator, pamphleteer, the fabled 'big-nosed bard from Barking', Billy Bragg is many things. His new album 'The Million Things That Never Happened' was released in 2021.
Also announced for The Big Top are Mercury prize nominated The Unthanks featuring Tyneside sisters Rachel and Becky Unthank who, as well as preparing to release their brilliant new album Sorrows Away, recently found time to provide the soundtracks for Mackenzie Crook's beautiful adaptations of Worzel Gummidge. The festival welcome back Cornwall's finest export the singing group Fisherman's Friends and also on the Big Top line-up is Anais Mitchell who is a songwriter of exceptional imagination who released her first solo work in a decade in January this year, UK four piece (two pairs of brothers and sisters) The Magic Numbers who are renowned for their unique harmonies, Westcountry multi-instrumentalist Seth Lakeman who recently released new album Make Your Mark, Bristol singer Katy J Pearson whose debut album 'Return' was one of the standout releases of 2020 and Eliza Carthy and The Restitution. Eliza Carthy MBE should by now need no introduction. A multi award-winning singer, songwriter and musician, she is one of the most recognisable faces of the English folk revival.
The Big Top line-up also features Thea Gilmore, an artist of enduring international acclaim whose creative rebirth and repositioning produced the brutally honest album Afterlight in 2021, plus Brighton-based multi-instrumentalists Hannah Moule & The Moulettes, the brilliant Sudanese-Scottish singer-songwriter Eliza Shaddad, Yorkshire folk singer Jack Rutter and Terrorvision's Tony Wright. Completing the bill on that stage are dynamic Glaswegian trio The Langan Band, Edinburgh-born songwriter Ross Wilson aka Blue Rose Code, Brighton punk-rock band The Bar Stool Preachers,Plymouth singer-songwriter Alex Hart plus the annual Sunday Service from festival friends The Bar Steward Sons Of Val Doonican and guests.
Friday in The Little Big Top is the Craig Charles Funk And Soul Club with Craig Charles plus Boca 45's, Reach Up Disco Wonderland, Filthy Dirty Disco and Webmoms (Live). Saturday is Chris Tofu's Version Excursion with BCO: Grime Orchestrated (Live), Mr Bruce (Live), Mista Trick (Live), Dat Brass, DJ Tofu, Binbag Wisdom and Tofu & Fizzy. On Sunday a Dubwiser takeover with Dreadzone DJ Set with Greg Dread & Guests, plus Gaudi (Live), Don Letts, Bazil, Danny Briottet and Professor Skank. There are also live sessions from Laid Blak, Barefoot Bandit and Gaslight Troubadours plus Silent Disco with Swing and Bass All Stars, Just A Couple Of Mums, Dave Cridge, Frankie G, King Farmer, Chris Hybrid and the Silent Disco Club and the family rave on the Friday afternoon - Big Fish Little Fish.
The seated Theatre Tent will play host to Spitz & Co presenting Elvis' Blue Hawaii, Le Navet Bete, The Tootsie Rollers, Scratchworks presenting The Grimm Sisters, Entertainingly Different's morning Rise N Shine, Jez Mansfield (Magician) and Chris James (Hypnotist) with more to come. First names announced for The Bimble Inn are Samantics, The Sweetchunks Band, Davey Malone, Power Ballad Yoga, Millie Manders and the Shutup and SLEAZE with many more to be announced. You'll also find pop-up folk/roots sessions in The Fiddler's Arms next to The Big Top curated by Seth Lakeman's musician dad Geoff Lakeman. Plus the festival has walkabout theatre, amazing site art, a high children's area, a vast selection of food and traders real ale bars are run by Otter Brewery. Beautiful Days is the Levellers festival, organised by DMF Music, and has been running annually since 2003 (except for a Covid enforced break for 1 year in 2020).
The Sunday theme this year is 'Peace & Love'
Tickets for the 2022 event are on sale now. There are family campsites, campervan fields, caravan pitches and some bell tent & tipi hire options still available. For information about accessibility, go to the festival website.
MAIN STAGE
FLOGGING MOLLY * THE SPECIALS * LEVELLERS * THE DANDY WARHOLS * MAXIMO PARK * SEASICK STEVE * LARS FREDERIKSEN * THE INTERRUPTERS * REVEREND AND THE MAKERS * NED'S ATOMIC DUSTBIN * JIM BOB * THE RUMJACKS * SNAPPED ANKLES * HOLLIE COOK * THE CELTIC SOCIAL CLUB * BOB VYLAN * THE LOVELY EGGS * CAM COLE * FEET * OPUS KINK * NOBLE JACKS * DEADLETTER * IDESTROY * FUNKE AND THE TWO TONE BABY

THE BIG TOP
BETH ORTON * THE IMAGINED VILLAGE * BILLY BRAGG * THE UNTHANKS * FISHERMAN'S FRIENDS * ANAIS MITCHELL * THE MAGIC NUMBERS * SETH LAKEMAN * KATY J PEARSON * ELIZA CARTHY AND THE RESTITUTION * THEA GILMORE * ELIZA SHADDAD * HANNAH MOULE & THE MOULETTES * TONY WRIGHT * THE LANGAN BAND * BLUE ROSE CODE * THE TRIALS OF CATO * THE BAR STEWARD SONS OF VAL DOONICAN'S SUNDAY SERVICE * THE BAR STOOL PREACHERS * JACK RUTTER * ALEX HART * LEVELLERS ACOUSTIC

THE LITTLE BIG TOP
CRAIG CHARLES FUNK AND SOUL CLUB * CHRIS TOFU'S VERSION EXCURSION * DREADZONE DJ SET WITH GREG DREAD & GUESTS * BCO: GRIME ORCHESTRATED (LIVE) * GAUDI (LIVE) * DON LETTS * MR BRUCE (LIVE) * MISTA TRICK (LIVE) * DAT BRASS * REACH UP DISCO WONDERLAND * DJ TOFU * BOCA 45'S * WEBMOMS (LIVE) * FILTHY DIRTY DISCO * BINBAG WISDOM * TOFU & FIZZY * BAZIL * DANNY BRIOTTET * PROFESSOR SKANK * LAID BLAK * BAREFOOT BANDIT * GASLIGHT TROUBADOURS * SILENT DISCO WITH  SWING AND BASS ALL STARS * JUST A COUPLE OF MUMS  * DAVE CRIDGE * FRANKIE G * KING FARMER * CHRIS HYBRID * SILENT DISCO CLUB * BIG FISH LITTLE FISH

THE THEATRE TENT
SPITZ & CO present ELVIS' BLUE HAWAII * THE TOOTSIE ROLLERS * LE NAVET BETE * ENTERTAININGLY DIFFERENT present RISE N SHINE * JEZ MANSFIELD (MAGICIAN) * SCRATCHWORKS present THE GRIMM SISTERS * CHRIS JAMES (HYPNOTIST)  

THE BIMBLE INN
SAMANTICS * THE SWEETCHUNKS BAND * DAVEY MALONE * POWER BALLAD YOGA * MILIE MANDERS AND THE SHUT UP * SLEAZE
Tags
Beautiful Days
,
---