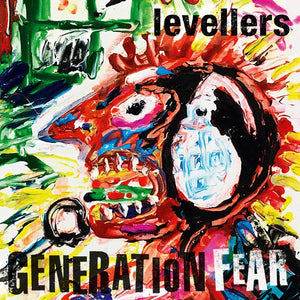 BRAND NEW SINGLE 'GENERATION FEAR' Released Today
BRAND NEW SINGLE 'GENERATION FEAR' Released Today
Jeremy Leveller says, "'Generation Fear' is all about the low level fear people have about their position in the world, how they relate to their neighbours and other people, older and younger. The lyrics then move on to the bigger worries of global militarism and climate change."
Watch the official video for new single GENERATION FEAR from our new album PEACE coming in 6 weeks!
Listen on Spotify
The album is available to pre-order now https://levellers.tmstor.es/
NEW ALBUM - PEACE – OUT 14 AUGUST
Our new album PEACE coming soon!
We're glad you've been enjoying the videos from our new album 'Peace'.
After a long wait, it's finally released on 14th August.
It's available in a variety of limited edition signed sets and bundles which are selling fast.
Formats: Super Deluxe Marble Vinyl 2LP+DVD / Indies only Splatter Vinyl LP + 7" / 2CD+DVD / LP / CD.  Pre-order them at levellers.tmstor
Of course, you can also Download from apple.com or stream it from your usual digital service
ROOM FOR A BIT MORE GLASTONBURY?

Glastonbury '92 CD is available now from www.levellers.co.uk  - you can also pre order the 2LP coloured vinyl set.
Remastered by Jon Sevink from the BBCs original tapes, and released on vinyl for the first time ever, we think you'll like this!
LEVELLERS MERCHANDISE
Including Beautiful Days In Covid Cancelled t-shirts, music, DVDs, clothing, Levelling The Land songbook, badge sets, hats, window stickers, magazines, patches, children's t-shirts &... come & have a look around. Here is a link to the Levellers shop www.levellers.co.uk/shop
---