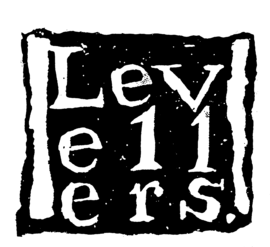 January News
 

 

January News 2015 - Happy New Year!



Film & Acoustic Tour Starts In Two Weeks
A Curious Life & Levellers Acoustic Tour Dates
Beautiful Days
Greatest Hits & Just The One Single


On The Fiddle Membership


Levellers Merchandise

 
 
 

 
 

 





Film & Acoustic Tour Starts In Two Weeks

Our acoustic and 'A Curious Life' seated tour starts in 2 weeks in Salisbury where you can watch the film 'A Curious Life' followed by an acoustic performance - all on the same night. The film is told through the unique perspective of Jeremy Cunningham, the band's bass player and artist and directed by former Chumbawamba frontman Dunstan Bruce. The film and all shows on the tour are certified 15+ | A Curious Life - Running time 78 mins

 
 
 

 
 

 

A Curious Life & Levellers Acoustic 2015 Tour

January 2015
28           Salisbury City Hall
29           Pontardawe Arts Centre
30           Malvern Forum Theatre LAST FEW TICKETS
31           Dublin St Patricks Cathedral
February 2015
01           Canterbury Marlowe Theatre
24           Isle Of Wight Shanklin Theatre
25           Bury St Edmunds The Apex SOLD OUT
26           London Union Chapel
27           Leeds Town Hall
28           Bexhill De La Warr Pavilion
March 2015                                          
01           Warwick Arts Centre
03           Northampton Derngate
04           Basingstoke The Anvil
05           Buxton Opera House
06           Liverpool Philharmonic Hall
07           Bath Forum

Tickets For The Film & Acoustic Tour Are On sale Now Here

 
 
 

 
 

 





Beautiful Days 2015

Tickets for Beautiful Days will go on sale in February, the first acts for the festival and the theme for 2015 will be announced soon after. An exact on sale date will be announced very soon!  If you have any general queries about the festival or would like to let us know who you want to see play in 2015 then please feel free to email Beautiful Days HQ at info@beautifuldays.org

www.beautifuldays.org
 

 
 
 

 
 

 




Greatest Hits & Just The One Single

Levellers Greatest Hits is out now and available in the following formats - 2CD/DVD, 3 LP/DVD, DIGITAL and iTunes Box set.

The latest single 'Just The One' featuring Bellowhead is out on CD, Digital EP and Blue 7" Vinyl. The original version of Just The One appeared on the Levellers' fourth and most successful album Zeitgeist, which debuted at Number One on the UK album chart in September 1995. Released as a single featuring the legendary Joe Strummer on piano, it earned Levellers two appearances on Top Of The Pops and reached Number 12, making it the Levellers highest charting single to date. Just The One is the fourth and final track in a series of collaborations which feature on the New Greatest Hits Album.
You can order Greatest Hits, Just the One, other Levellers music and merchandise Here

 
 
 

 
 

 

On The Fiddle Levellers Membership



Join to receive a limited edition Levellers On The Fiddle tea towel - designed by Jeremy, Levellers bass player & artist - and discount on Levellers merchandise at our website

OTF Members can get discount on the cost of an adult ticket for Beautiful Days 2015 for a limited time. Details of the offer will be announced in the next few weeks so make sure your membership is up-to-date, ask if you're not sure info@levellers.co.uk

On The Fiddle Levellers membership

 
 
 

 
 

 

New Levellers Merchandise

We have a fantastic new zip-up hoodie with Jeremy's artwork on the back to keep you warm this winter
Keep checking the Shop Section of the website for new items.  

 
 
---