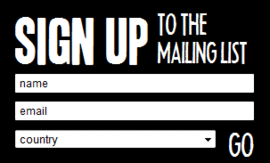 New Levellers Mailing List
New Levellers Mailing List
We need to clean and update our database and mailing program so if you would like to continue to receive the latest news and updates on all things Levellers, OTF and Beautiful Days then please sign up to the new list by scrolling down to the bottom left of our website and entering you name, email address and country there.
The current database will no longer be used from 14 December so please take 2 minutes to sign up again to make sure you don't miss out on forthcoming news. As a thank you for staying on the list you will get a link when your subscription is confirmed to download a new and unreleased Levellers song!
---