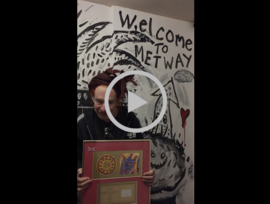 Win a personalised Levellers Gold Disc!
Win a personalised Levellers Gold Disc!
Jeremy Leveller explains the coloured vinyl competition
Levellers Coloured Vinyl Competition - Win a personalised gold disc 
It's easy! All you have to do to win a Gold Disc is solve the problem of how to enter the competition.
There's a hidden message somewhere on each of the coloured vinyl reissues. 
Once you've found it, follow the instructions and you could win a gold disc of either the 'Levellers' or 'Zeitgeist' albums with your name on it like the one in Jeremy's video.

There are also runner up prizes to be won. 

'Levellers' and 'Zeitgeist' are released 23rd November. Order yours from OTF
Happy hunting! 
Love, the Levellers
---