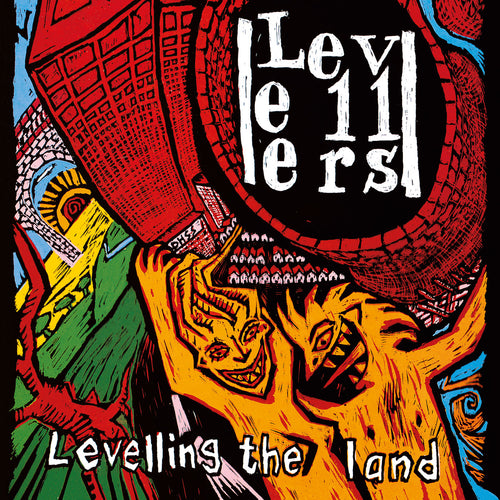 1991
LEVELLING THE LAND
On The Fiddle Recordings
Featuring the singles One Way, Fifteen Years and Far From Home along with the anthems Sell Out and Battle Of The Beanfield, LEVELLING THE LAND quickly became the Levellers most famous album, going on to sell over 300,000 copies in the UK alone.
The album has now been remixed by Al Scott from the original 24 track analogue masters and is released as a 2LP set, Deluxe 4LP set or a Super Deluxe 5LP+CD+DVD Numbered Box Set edition
JEREMY: A year after Weapon was released, with Simon newly in the band, our new record label sent us into the luxurious Ridge Farm studios to make Levelling The Land.
All our friends came to live at the studio with us in their vehicles 'cos it had a pool!!
We asked Al Scott to produce it, having heard his work with Ruff Ruff & Ready – tho' he insists he'd seen us at the Marquee and had approached our label for the gig himself…so, a bit of synchronicity!
We'd improved enough by then to make recording pretty easy and straightforward.
"One Way"
"The Game" 
"Fifteen Years" 
"The Boatman" 
"Liberty Song" 
"Far From Home" 
"Sell Out" 
"Another Man's Cause"
"The Road" 
"The Riverflow" 
"Battle of the Beanfield" 
"https:\/\/www.youtube.com\/watch?v=u0S8RNkL5Wg"
"https:\/\/www.youtube.com\/watch?v=64vyBngHFIo"