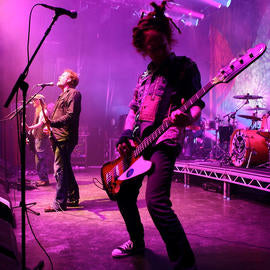 February Newsletter 2013


 
 



 

New Static On The Airwaves Video - Traveller

Click here to see the new video for Traveller from the album which was filmed at Exeter Cathedral. The band performed an acoustic show there in September 2012 with the cathedral providing a stunning backdrop for the show and the video.

 
 
 

 
 

 

Levellers Live  

More dates have been announced for May and June and beyond, you can see all the dates and details on our website here

www.levellers.co.uk/events

. We're also delighted to announce Moulettes, Gaz Brookfield and Jim Lockey & The Solemn Sun as support on various dates coming up.  

May

Sun 05 Holland

Liberation Festival

Den Bosch

Tues 07 Germany Aschaffenburg

Colossaal 

Wed 08 Germany Bochum

Zeche

Thu 09 Germany Weinheim

Café Central

Fri 10 Germany Osnabrück

Rosenhof

Sat 11Holland Heerlen

Nieuwe Nor

Mon 13 Bath

Komedia

Tue 14 Cardiff

Coal Exchange

Wed 15 St Albans

Arena

Thu 16 Buckley

Tivoli

Fri 17 Guildford

G Live

Sat 18 Scunthorpe

Baths Hall

Sun 19 Derby

Bearded Theory Festival    June                                                     

Wed 12 Cheltenham

Town Hall

Thu 13 Bedford

Corn Exchange

Fri 14 

Isle Of Wight Festival

Sat 15 Yeovil

Westlands

Leisure Complex

Fri 28  Leamington

The Assembly

Leamington Spa

Sat 29 

Grassington Festival

North Yorkshire

Sun 30  Holmfirth

Picturedrome

, West Yorkshire         

July                                          

Thu 18 Newquay

Lusty Glaze Beach

, Cornwall

Sat 20  Germany Burg

Herzburg Festival August                                              

Fri 9  Oxford

Cropredy Festival

Sat 10  Tewkesbury

Lakefest

16–18 Devon

Beautiful Days Festival  

 
 
 

 
 

 

Beautiful Days 2013  

The dates for next year's festival are

16, 17 & 18 AUGUST 2013

and tickets are on sale now from the Levellers shop

Levellers website

The first acts for Beautiful Days 2013 are likely to be announced in March but feel free to email or post suggestions for us! Go to the festival website for all festival info

www.beautifuldays.org Tickets   Festival Website

 
 
 

 
 

 

Spiral Earth Awards 2013

If you've got 2 minutes, please head over to

www.spiralearth.co.uk

to cast your vote. We've been nominated for Best Album for

Static On The Airwaves

and

Beautiful Days

is up for Best Festival.

We've also got a few friends nominated including

Moulettes for Best Group

Sean Lakeman & Kathryn Roberts for Best Original Song and Best Duo

Nick Burbridge for Best Songwriter.

Voting closes on the 14 March 2013.  

 
 
 

 
 

 

On The Fiddle Levellers membership

On The Fiddle members receive a limited edition Levellers Hoodie and discount on Levellers merchandise at our website.

Members can also get a discounted adult ticket for Beautiful Days 2014 (the discount time is over for this years festival).

If your membership needs renewing or you would like to join now you can do so now to receive the benefits.

If you have any queries please email otf@levellers.co.uk

Find out more about

On The Fiddle Levellers membership

.  

 
 
 

 
 

 

Levellers studio album Static On The Airwaves

You can order the latest album on CD from

Amazon

or

Play

.  A digital deluxe version is available from 

iTunes

. A Limited Edition Box Set containing Static On The Airwaves CD, Vinyl LP, Red 7" Truth Is Vinyl, T-shirt, poster and keyring is available from the

Levellers website

.

 
 
 

 
 
---