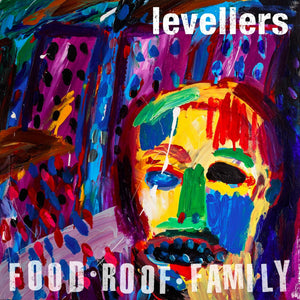 MARCH NEWS - NEW TOUR DATES ADDED IN EUROPE
EXTRA EUROPEAN DATES ADDED
Extra dates added in Belgium, Germany, Czech & Netherlands. Support from Nick Parker & The False Alarms
Free CD Singles
If you've been to see see the band on any of our recent tour dates, you'll already know We've been giving away a free CD single.
Food Roof Family is only available at our gigs so Don't forget to pick yours up if you're coming to see us this spring.
Please ask at the Merchandise stand if you haven't been given one - limited to one per person!
NEW ALBUM - PEACE – OUT 14 AUGUST
We are happy to announce our new album PEACE will be out on 14 August
Available in a variety of vinyl and CD formats: Limited edition deluxe signed versions and bundles include a Bonus album + Video album + exclusive 7" single. Pre-order here   
"The album is about the state of the world and our state of mind," says Jeremy "It's the most anxious-sounding record we've done in a long time. It's the way the world is. We're just reflecting it. It's an album of now."
NEW SINGLE & VIDEO
This is the first single 'Food Roof Family' – you can get the new song today when you pre-order the album here
"Everybody needs those three things, it doesn't matter where you're from," says Mark "It's something that we all crave. Why does anybody want more roof than anybody else, or more food than anybody else, or want to kill anybody else's family. It doesn't make any sense."
HOMELESS PARTNERSHIPS
On the upcoming tour we are partnering with local homeless charities in each town and encouraging fans to bring items along to donate whether it be a hat, coat or toiletries and more. The Facebook events page for each gig will have a list of anything specifically needed
We are linking up with local homeless charities and support groups in every city we are playing on tour this year to support them and raise awareness. Members of the groups will be at the shows sharing information about what they do and we are asking fans who are attending the shows to donate specific items on the night to help the homeless and vulnerable in those areas. There are facebook events set up for each city detailing who we're working with and what they are asking for. More will be announced over the coming weeks.
https://www.facebook.com/pg/levellersofficial
LEVELLERS MEMBERSHIP - ON THE FIDDLE

Join On The Fiddle
This year's OTF Membership Freebie is a live CD - Brighton Rock - recorded at the Levellers' Brighton Dome hometown gig on their 30th Anniversary tour last year.
Produced and mixed as usual by Jon Sevink, the band were on great form rattling through blistering versions of their classics - and you can only get it here.
Track Listing, 100 Years Of Solitude, Accidental Anarchist, The Fear, Three Friends, Too Real, Truth Is, What You Know, Wheels, Aspects Of Spirit, World Freak Show.

Members also get discounts on a range of Levellers merchandise and music. There are some offers in the member's area of the shop, just login with your membership details (username and password) to see it.
Membership discounts appear on loads of items throughout the shop.

OTF Members can get £10 discount on the cost of an adult ticket for Beautiful Days 2021 the discount has finished for the 2020 festival.
PLEASE ASK if you need any help with your membership or your discount for Levellers merchandise in the website shop info@levellers.co.uk
Once you have joined and your membership order has gone through you can get your merchandise discount by logging in with the user name and password you gave to buy your membership.

Check out our facebook page On The Fiddle - Official Levellers Fanclub

www.levellers.co.uk for information, tour dates, Beautiful Days tickets, Levellers music, merchandise and more
---