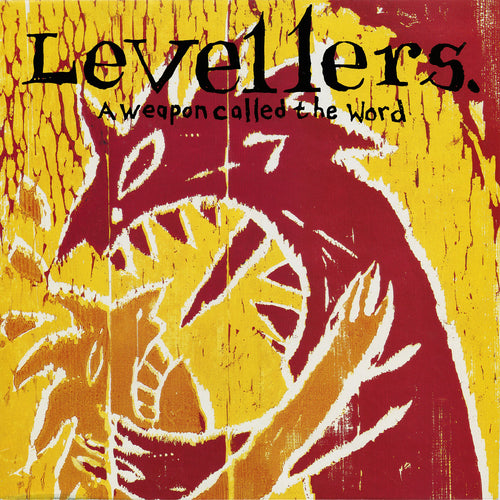 1990
A WEAPON CALLED THE WORD
On The Fiddle Recordings
Released in 1990, A WEAPON CALLED THE WORD includes some of the Levellers' most well loved songs including Carry Me, England My Home and World Freakshow.
The album achieved BPI Gold status without charting and remains a fan favourite more than 30 years after release. 
JEREMY: The original. After a 3 month tour + 2 weeks of rehearsals, we set off to darkest Wales to record this live in Loco studios with Phil Tennant. Phil had previously mixed the Waterboys' Fisherman's Blues. Recommendation enough!
Anyway we started playing and, not being used to recording studios, we were shit!.
We spent most of our time practicing, working in shifts 24/7 to get it done.
Along the way, I fell out with the producer, calling him a Tory **** only to have my bass parts removed and the 2" tape stapled to the studio wall. Alan lost his shit trying to play Together All The Way and stormed off for a week.
At least on his return everything was functioning better & we got it finished - just about - on time!
"World Freak Show" 
"Carry Me" 
"Outside/Inside" 
"Together All the Way" 
"Barrel of the Gun" 
"Three Friends" 
"I Have No Answers" 
"No Change" 
"Blind Faith" 
"The Ballad of Robbie Jones" 
"England My Home" 
"What You Know"