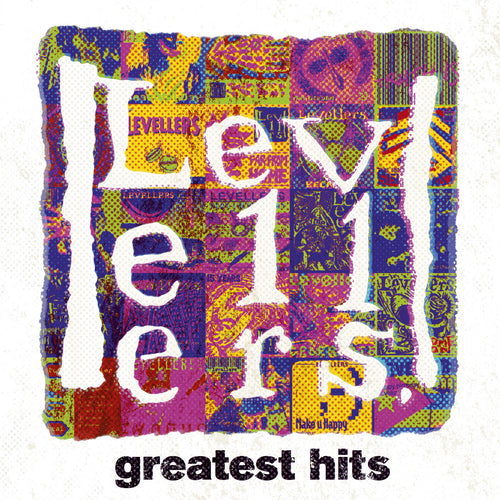 2014
GREATEST HITS
On The Fiddle Recordings
Compiled by the band themselves, GREATEST HITS includes all the Levellers' singles and videos together on one album for the first time. 
From the folk punk roots of Carry Me, through the anthemic One Way, Fifteen Years and the chart topping Hope Street, Just The One and Beautiful Day - more recent tracks such as Truth Is, Burn America Burn and The Cholera Well prove the Levellers' scathing political comment and positive DIY attitude to life hasn't dissipated over the years.
JEREMY: We'd been trying to get our old albums back from Warners for a couple of years, and, mid negotiations, heard they were licensing them to another label, Demon Records.
Luckily an old friend from China Records was in charge there, so we "paid him a visit" and agreed to help with the reissues if they let us release Greatest Hits ourselves.
So we went back thru all the original tapes, remastered everything to make us sound even better + brought the Hits album up to date.
  1. "Fifteen Years"
  2. "Hope Street"
  3. "What A Beautiful Day"
  4. "Dog Train"
  5. "Belarus"
  6. "The Cholera Well"
  7. "Last Man Alive"
  8. "Truth Is"
  9. "Fantasy"
10. "Just The One"
11. "Burn America Burn"
12. "Before The End"
13. "Celebrate"
14. "Bozos"
15. "Too Real"
16. "Liberty"
17. "Beautiful Day" [feat. Imelda May]
18. "Julie" [feat. Frank Turner]
19. "One Way"
20. "Make You Happy"
21. "This Garden"
22. "Julie"
23. "Wild As Angels"
24. "Come On"
25. "The Devil Went Down To Georgia"
26. "Far From Home"
27. "Together All The Way"
28. "Exodus" (Live)
29. "Happy Birthday Revolution"
30. "Carry Me"
31. "Outside/Inside"
32. "World Freakshow"
33. "The Recruiting Sergeant" (War Child Explicit)
34. "Just The One" [feat. Bellowhead]
35. "Hope St." [feat. Billy Bragg]
"https:\/\/www.youtube.com\/watch?v=9IBP-mSGKzw"
"https:\/\/www.youtube.com\/watch?v=PQ7qpVztStE"