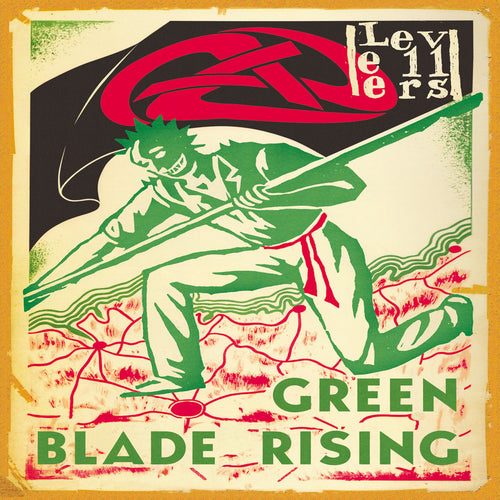 2002
GREEN BLADE RISING
On The Fiddle Recordings
GREEN BLADE RISING was produced by Al Scott (Levelling The Land, Zeitgeist) and includes the Top 40 singles Come On and Wild As Angels.
JEREMY: After the magnum opus that was Hello Pig, we were 'released' from our Warners contract so we started our own label - On The Fiddle Recordings -  which is the best thing we ever did.
Reeling a bit from the negative fan response to HP we thought we better do something a bit more 'Levellers sounding'!
With Al Scott back producing again - we wrote all the songs beforehand + played them live at a couple of secret gigs at our fave pub, the Open House in Brighton.
Originally we went into the empty top floor at Metway to record everything 'cos it sounded great up there (even though we had a perfectly good studio two floors down!)
It turned into a nightmare though as we couldn't see each other, which for live recording is pretty essential.
So anyway we recorded the whole album, decided it wasn't good enough + went back into our proper studio to record it all over again, like one of those crazy things that the likes of Led Zeppelin or someone would have done in the 70s!
It did come out much better though. 
The most important thing about Green Blade Rising for me, is it marked Matt's entry into the band.
Which thankfully wasn't as painful as it sounds!
"Four Winds" 
"Falling from the Tree" 
"Pretty Target" 
"Come on" 
"Pour" 
"Aspects of Spirit" 
"Wild as Angels" 
"Believers" 
"A Chorus line" 
"Not What We Wanted" 
"Wake the World" 
"https:\/\/www.youtube.com\/watch?v=ODu4Ii1vcqc"