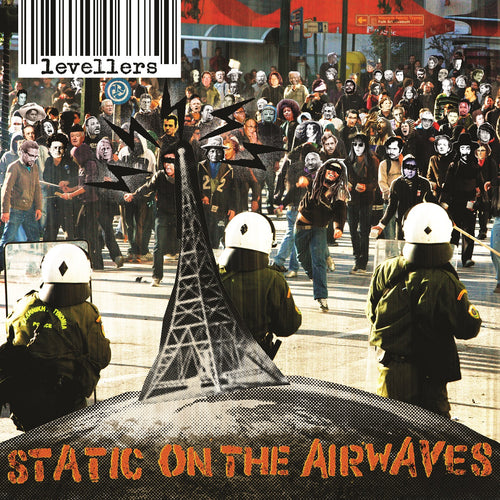 2012
STATIC ON THE AIRWAVES
On the Fiddle Recordings
As the Levellers approached their 25th anniversary they found themselves in the same political climate as when they started.
STATIC ON THE AIRWAVES is the sound of a band whose incisive lyrics, innate musicality and passion have continued to improve rather than diminish in nearly a quarter of a century of writing and recording - exemplified on songs like Truth Is, Our Forgotten Towns and The Recruiting Sergeant 
JEREMY: After the success of Letters we went back to Sean Lakeman. This time we wanted to show the more acoustic side of the band, as well as the loud guitars. We wrote and demoed the album in a hotel owned by friends of ours, near Harrogate.
The opportunity arose to record in Prague - one of our favourite cities, so we went to the amazing Sono Studio, set up live + played thru the tunes in blocks of four or so until we had it done.
We got our Czech friends, Divokej Bill in to play on the Recruiting Sergeant - which was great fun. And an amazing classical quartet came into play on After the Hurricane.
Intense work indeed but it's a really good, honest record of our 3 weeks in that studio. 
The original album cover was vetoed by our lawyers so we had to come up with a quick replacement which luckily worked well …. We've now gone back to the original 'celebrity riot' cover though as…we're not famous enough to get sued. 
STATIC ON THE AIRWAVES
"Static on the Airwaves"
"We Are All Gunmen"
"Truth Is"
"After the Hurricane"
"Our Forgotten Towns"
"No Barriers"
"Alone in This Darkness"
"Raft of the Medusa"
"Mutiny"
"Traveller"
"Second Life"
"The Recruiting Sergeant"
"https:\/\/www.youtube.com\/watch?v=Ns1q-DOF5gI"