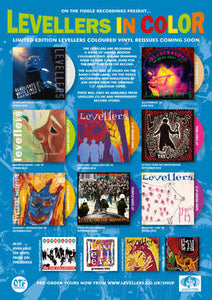 LEVELLERS COLOURED VINYL REISSUES
Continuing their 30th anniversary celebrations, the Levellers are releasing of a series of limited edition coloured vinyl albums, including the never before released headline set at Glastonbury 1994.

The albums have been remastered by Jon Sevink from the original 1/2" analogue tapes, who says of the project "One of the biggest disappointments in our history has been the assumption that none of the Levellers original master tapes had survived.

Following a meeting with Warner Records, I received an email listing the whereabouts of our entire recorded output since 1991. Analogue 2" multitrack tapes, 1/2" masters! So we can now repress the albums from the original mix masters. On coloured vinyl… Yesss!"
 
These limited-edition releases will only be available from independent stores and On The Fiddle.
 
Some of the albums have never been released on vinyl and each of the studio albums from the 90s will contain a previously unreleased live album recorded on tour at the time of release.
 
While the Levellers are big fans of Record Store Day, they feel it has been hijacked by the majors in recent years, pushing smaller labels to the back of the queue and so wanted to do something special for the fans and to celebrate this milestone in their career.
 
NO HMV NO AMAZON

"Independent shops can't afford to stock everything for Record Store Day - it's ridiculous," says Mark Chadwick. "We did it for a couple of years but avoid it now - we can't compete with a new Led Zeppelin or Beatles record! It's a shame because who doesn't love putting out great records in beautiful packaging?"

To kick off the campaign, their two most recent studio albums, Letters From The Underground and Static On The Airwaves have been available exclusively via OTF on pink and purple vinyl respectively.
 
Now you can pre-order the rest. Top 5 albums, Levellers (#2, 1993) and Zeitgeist (#1, 1995) will be issued as limited edition 2LP orange / yellow vinyl sets in December.
 
Spring 2019 sees the band's next three albums released on vinyl for the first time ever. Recorded at the peak of their career, the double live album, Headlights, White Lines, Black Tar Rivers (#13, 1996), along with Mouth To Mouth (#5, 1997) and Hello Pig (#28, 2000) also get the coloured vinyl treatment.
 
Finally, in June 2019, for the first time ever, Levellers' stunning headline set from Glastonbury '94 will be released on 2LP gold vinyl, completing the band's year of 'indies only' albums.
Watch LEVELLERS IN COLOR ad here
 
You can pre-order all vinyl now here
RELEASE SCHEDULE
OUT NOW 
Letters From The Underground (Pink Vinyl LP)
Static On The Airwaves (Purple Vinyl LP)
December 2018 
Levellers + Levellers Live (Orange VInyl 2LP)
Zeitgeist + Zeitgeist Live (Yellow Vinyl 2LP)
Spring 2019
Headlights, White Lines, Black Tar Rivers (Silver Vinyl 2LP)
Mouth To Mouth + Live '97  (Lime Green Vinyl 2LP) 
Hello Pig + Live '00 (Cerise Vinyl 2LP)
June 2019 
Glastonbury '94  (Gold Vinyl 2LP)
---