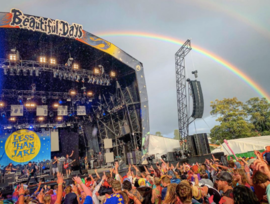 SEPTEMBER NEWS - 2019
Beautiful Days

THANK YOU to everyone who came to Beautiful Days 2019!
What an amazing weekend - so many great memories Happy people, fantastic bands, awesome costumes, the sun, the rain - we loved it all. Check the festival website and social media for photos and reviews as we share them.
NEXT YEAR'S DATES ARE 21 - 23 AUGUST 2020
Tickets for Beautiful Days 2020 will go on sale Friday 27 September at 10am
Ticket prices and capacity are the same as 2019
HOPE TO SEE YOU IN 2020!
Levellers Live

We are going to be playing a very special show at London Palladium on Saturday 12 October with support from our friends Dodgy supporting mental health charity Mind
OCTOBER
11 Portsmouth - Wedgewood Rooms - Sold Out
12 London - Palladium
Levellers On The Fiddle Membership

Join On The Fiddle
This year's OTF Membership Freebie is a live CD - Brighton Rock - recorded at the Levellers' Brighton Dome hometown gig on their 30th Anniversary tour last year.
Produced and mixed as usual by Jon Sevink, the band were on great form rattling through blistering versions of their classics - and you can only get it here.
Track Listing, 100 Years Of Solitude, Accidental Anarchist, The Fear, Three Friends, Too Real, Truth Is, What You Know, Wheels, Aspects Of Spirit, World Freak Show.

Members also get discounts on a range of Levellers merchandise and music. There are some offers in the member's area of the shop, just login with your membership details (username and password) to see it.
Membership discounts appear on loads of items throughout the shop.

OTF Members can get £10 discount on the cost of an adult ticket for Beautiful Days 2020 when the tickets first go on sale from 27th September 2019
PLEASE ASK if you need any help with your membership or your discount for Levellers merchandise in the website shop info@levellers.co.uk
Once you have joined and your membership order has gone through you can get your merchandise discount by logging in with the user name and password you gave to buy your membership.

Check out our facebook page On The Fiddle - Official Levellers Fanclub for pictures, photos, competitions and On The Fiddle membership freebies.

www.levellers.co.uk for information, tour dates, Beautiful Days tickets, Levellers music, merchandise and more
---