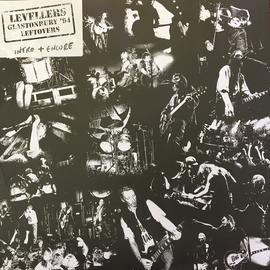 MISSING LEVELLERS VINYL / GLASTONBURY AUDIO FOUND
Ahead of the release of the 2CD+DVD version of Glastonbury '94 this week - we have some important information for anybody who has already bought the Glastonbury coloured vinyl set.
The audio for the Glastonbury '94 vinyl was originally sourced from the BBC resulting in the 15 track double LP, but despite years of searching nobody could find the video of the performance.
However, as the magic fields of Avalon would have it, we've been let in for a huge surprise. In April this year, the stars aligned and in Glastonbury itself, the missing footage was found. But it was a hazy time for us, as we're sure it was for you and we discovered that there were six extra songs played that day (who knew!), which the BBC didn't record but were perfectly preserved on the Channel 4 film's audio files.

After deliberating on how to release 2CD/DVD package similar to the vinyl, we have been left in an exciting but difficult situation as how to release the extra songs to our fans who have already bought the vinyl.
So we have opted for something a little more special....
We have pressed a third LP also on gold vinyl, which will fit into the existing sleeve. To make it extra special and more of a collector's item for you vinyl junkies, it is labelled First Side / Last Side rather than Side E & F.
FIRST SIDE contains the intro – 100 Years of Solitude, Sell Out & Broken Circles while LAST SIDE is the explosive encore of Warning, Liberty and What You Know.
So you can now enjoy the Levellers' full headline set on vinyl by playing First Side, then Side One, Side Two, Side Three, Side Four and finally, Last Side.
The 12" pressing comes in just an inner sleeve which fits nicely into your original Glastonbury '94 sleeve - and is only a fiver with your next order https://www.levellers.co.uk/shop/levellers-glastonbury-94-leftovers-gold-vinyl
Enjoy!
X
---